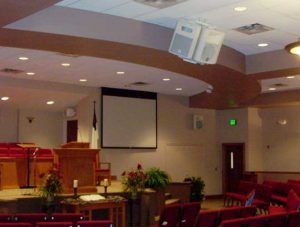 With over 35 years experience in the sound, video, and lighting business I opened Sound Solutions in 2005. Of those 35 years, 17 of them were spent as the lead audio tech for the Greenbrier Hotel in White Sulphur Springs WV. While at that position I had the opportunity to work with some of this country's leading business leaders, politicians, and entertainers. More importantly, I learned the technical knowledge needed for this business and that customer satisfaction is the key to success.
If you or your organization has a need for professional audio, video, or lighting installations or equipment please contact us.We offer creative audio visual solutions that are cost effective as well as user friendly. No job is too big or too small, from minor repairs to auditorium systems.
Our company was established to provide efficient, expert solutions to businesses, churches and individuals. Our primary services include audio, video, and lighting system design and installation. We also sell equipment directly to the end user as well as support for live events.
Our Goals
Sound Solutions is dedicated to providing our customers with high quality, reliable, cost effective, and user friendly solutions for their audio and video needs.